Biomedical Laboratory Sciences (BLS) is a challenging and rewarding health care profession that has great impact on patient care. Working in a variety of settings, laboratory scientists are essential members of the health care team who provide vital information about the status and function of the body and its systems. The data obtained by laboratory professionals is utilized in the diagnosis, treatment, and prevention of disease.
Student Testimonials
Betselot  Zelalem, BSHS '20, chose to enroll in the Medical Laboratory Sciences Program at GW because it combined her interest in the molecular level of science and medicine.
---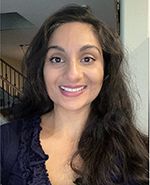 "The MSHS program in clinical microbiology helped me advance to new career opportunities and increase my salary," said Zara Tariq. "It has also given me the confidence to further my studies and driven me to continue learning in the health sciences."
The School of Medicine and Health Sciences, Biomedical Laboratory Sciences Department invites students interested in healthcare programs to attend our upcoming Open House.